Originally published on Collectively.org. All photographs mine, copyright protected.
Only minutes after walking into Dolly's house, taking off my shoes off and saying hello to her four kids, who were lounging on the couch and playing reggaeton videos on YouTube, I was holding a steaming mug of fresh ginger tea and swapping stories and recipes with my new cooking classmates. The whole atmosphere cultivated a kind of warmth and casualness you don't usually encounter in a cooking class, for one main reason: most cooking classes aren't in someone's home.
League of Kitchens launched in early 2014 as a cooking school for people who want an intimate, culturally-rich food experience. It's about much more than knife skills, or learning classic French sauces. These classes are for people who want stories, culture, and authentic, unguarded interchange alongside instruction. And the instruction itself is meant for the home cook, rather than the professional.
All over the Internet, there are platforms for communal dining experiences, outside restaurants. EatWith, for example, sells tickets to home-cooked meals with a cultural twist, all over the world; Feastly, similarly, allows you to support "an indie cook's dream" by joining a meal at their house or a pop-up location.
The idea behind League of Kitchens started when New York City resident Lisa Gross realized that her family's Korean American culinary heritage was at risk of disappearing. 
"My Korean grandmother lived with us, and cooked all this amazing food all the time, but when I showed interest in helping, she always said, you should go study, it's important," Gross told Collectively. "She wanted me to have options and a life that she didn't have."
League of Kitchens was born of Gross's desire to "have some other grandmother teach me her recipes in my own kitchen." Then, Gross thought bigger than herself. "Wouldn't it be great if there were grandmothers from all over the world and you could go into their kitchens and learn their expertise?"
As the idea developed, Gross became more focused on how food and cooking could be a way to "share culture and create opportunities for meaningful interaction and exchange, in addition to creating this exceptional culinary and learning experience."
At Dolly's house in Queens, we watched and helped her make a goat curry that was seasoned with sauces made from fresh herbs and garlic. This was followed by chickpea and potato curry, dal, green apple "chow", and, most memorably, "Buss-Up Shut" roti that you literally "buss-up" with two sticks.
Dolly learned cooking from her parents in Trinidad, and her self-confidence in the kitchen is unbounded; she told us about how all the neighbors come to her parties so they can eat her food, and she cooks for all her local Hindu temple festivals. But we never measured anything, not once; the whole process was very intuitive. And this is part of the reason why Gross was inspired to create League of Kitchens. "Many cuisines, the full expression is found in the home, not in restaurants," she explained. "Seeing how someone learned from her grandmother is really special."
Currently, League of Kitchens employs eight instructors who were recruited through extensive outreach, via nonprofits, community organizations, language schools, and so on.
"We also post on Craigslist because a lot of immigrants and their kids use it to find work," explained Gross. Dolly's daughter found something about League of Kitchens online, and actually was the one to suggest it to her. League of Kitchens interviews potential instructors, then does an in-home visit to determine whether they offer the right setting. There is an extensive paid training for all instructors before they start teaching.
"We're really looking for an exceptional home cook, someone who's a great host, comfortable with strangers, comfortable telling their story," said Gross. She gushed praise about how talented the cooks are, mentioning a Korean instructor who makes her own soy sauce and fermented soy bean paste from scratch, an Indian instructor who does all her pickles and chutneys, and a Lebanese instructor who makes her own labne.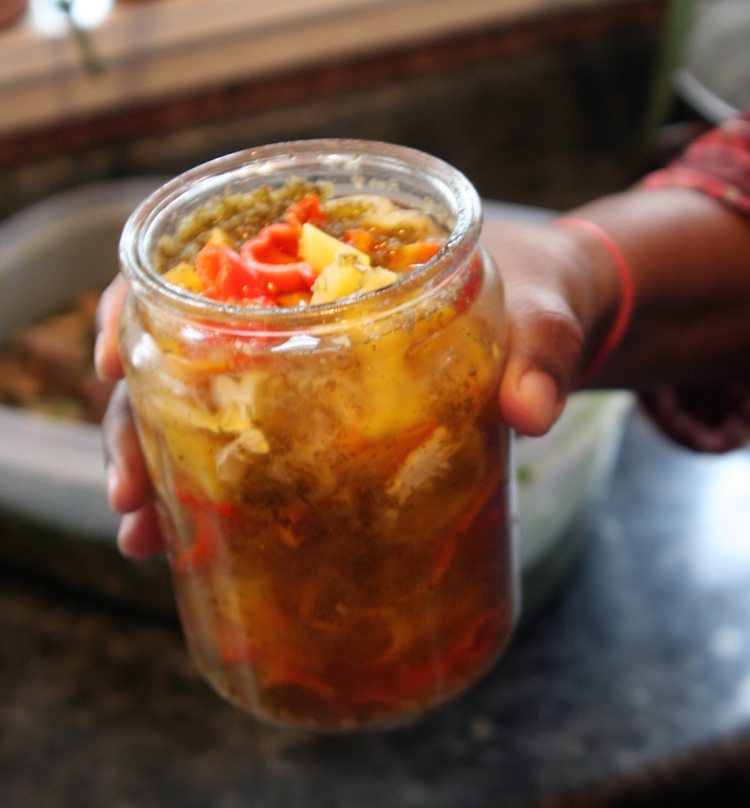 The reason why someone would want to sign up for a League of Kitchen class will, of course, vary, but interestingly enough, two women in my class at Dolly's attended hoping to learn how to make Caribbean food for their husbands, who had Jamaican and Indian heritage. Dolly smiled at this, and said that the men wanted the food their mothers made for them.
On a personal level, Gross herself has realized her dream of resurrecting her grandmother's traditional cuisine. "My Korean cooking skills have improved a lot," she said. And she has personally gained from working with her League of Kitchen instructors: "I've learned a lot of subtle, yet super important techniques and methods that elevate a dish from good to exceptional."